Sharon asks, "Do you use nut oils when making your products?"
TLDR: Yes.
Yes, we do use nut oils. Specifically, we keep coconut, sweet almond oil and shea butter in stock for use in several of our products. We also use olive and several seed oils. We do NOT use legume oils. All ingredients are listed on the products and we encourage you to check the list each time you purchase an item.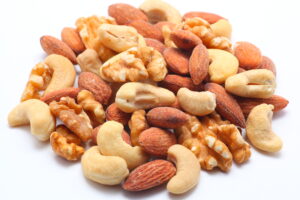 Oils commonly referred to as tree nut oils are almond, hazelnut, walnut, cashew, pistachio, pecan, Brazil, and shea butter.  Oils commonly referred to as kernel or seed oils include pumpkin, sesame, sunflower, blackberry, cranberry, pomegranate, meadowfoam, Abyssinian, cottonseed, grapeseed, babassu, mango, kokum, cocoa, marula, apricot, cherry, palm, and oat.  Olive and coconut oils do not fit neatly into either of these two categories. Additionally, there are legume oils such as peanut and soybean.
We recognize that allergies exist is many forms and severities. If you think you might have an allergy to any of the oils used in our products, please do not purchase or use them. If you are ever dissatisfied with a product, return the remaining portion and the label or tag for redress.